Hase-dera Temple, Nara
Originally known as Hatsuse, Hasedera temple in Nara Prefecture was a popular, if arduous, pilgrimage for Heian-era ladies, and a stop for other pilgrims on their way to the Grand Shrine at Ise.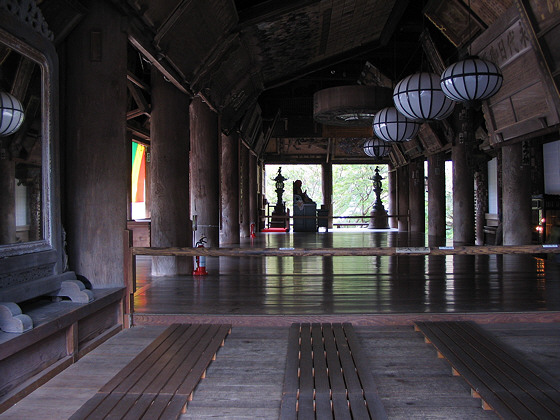 Bell-shaped lanterns and an image of Binzuru silhouetted in the morning light outside the hondo.
It has since become the eighth temple on the Saigoku Kannon pilgrimage. Performances of traditional dancing are given in the hondo on special occasions.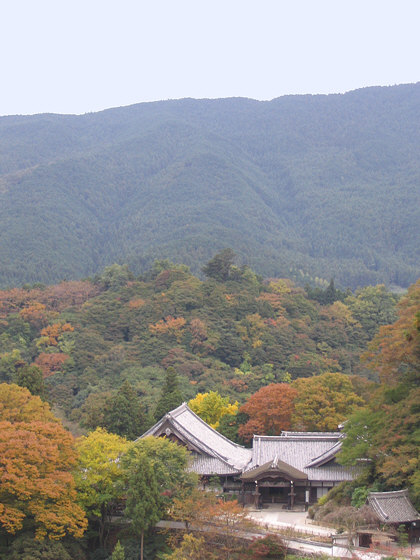 View from the veranda of Hasedera Temple.
The temple is set on a mountainside, surrounded by forest, and is reached by crossing the Hase River, once lined with pilgrim's lodgings. In The Jeweled Chaplet chapter of The Tale of Genji, Hatsuse is where Genji's servant discovers Yugao's daughter on a pilgrimage.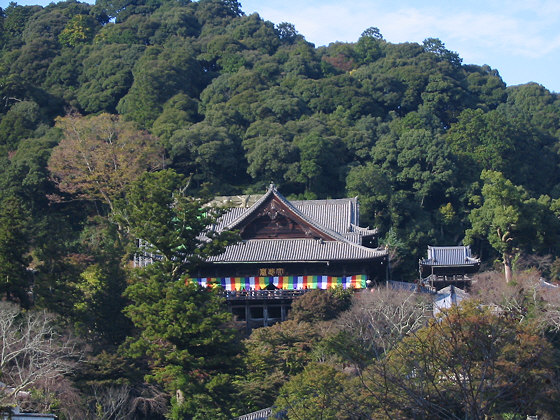 View of Hasedera Temple's hondo from lower on the hill.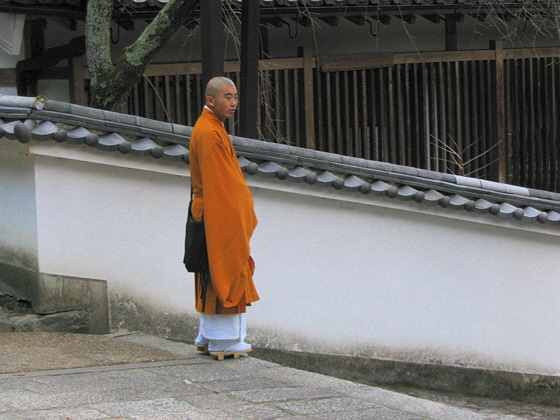 A monk stands below Hasedera Temple's main hall.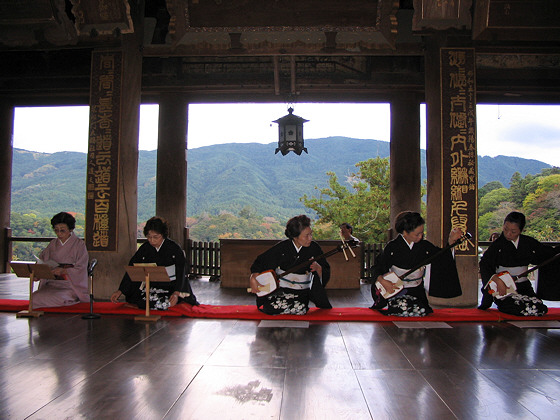 Autumn concert in Hasedera Temple's main hall.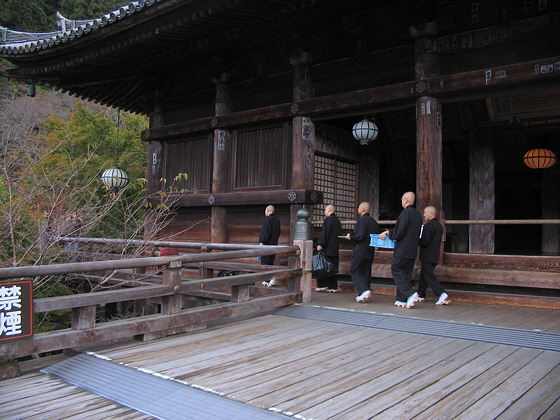 Monks on Hasedera Temple's veranda.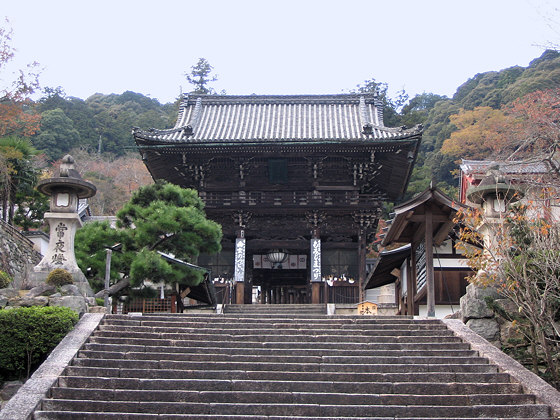 Main gate at Hasedera Temple.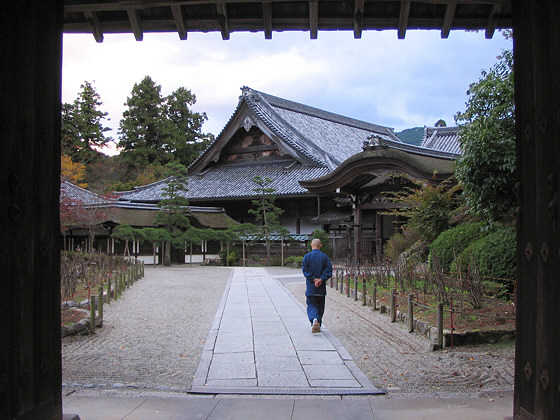 A monk walks towards Hasedera Temple's honbo.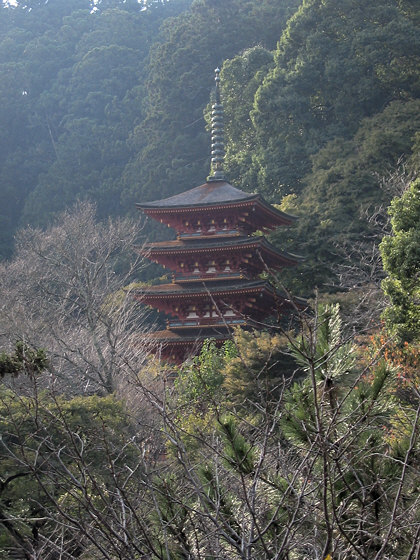 Pagoda on the hillside.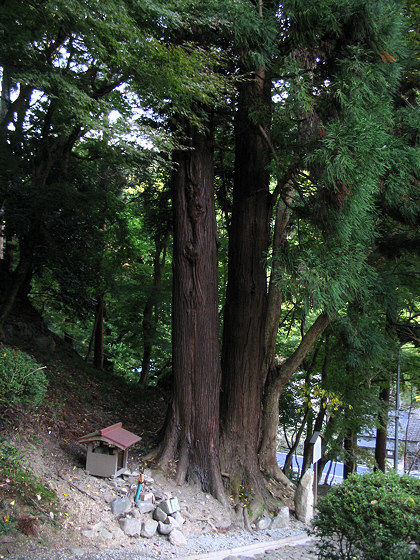 Forked tree mentioned in the Tale of Genji.
Hase-dera dates from 686 and contains one the most stunning images of Kannon in the whole of Japan. Carved in 1538, the eight-metre high eleven-faced Juichimen Kannon gazes out through the temple's main hall across the valley beyond.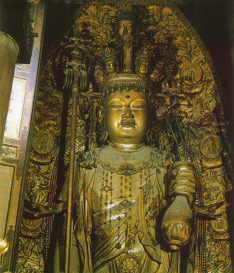 Hasedera Temple's impressive 8-metre statue of Kannon.
The temple features a large veranda, rising high above the trees below.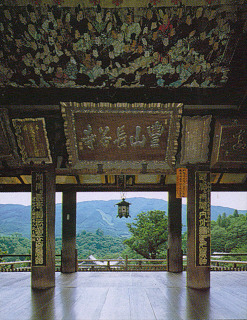 View across the valley from Hasedera Temple's main hall.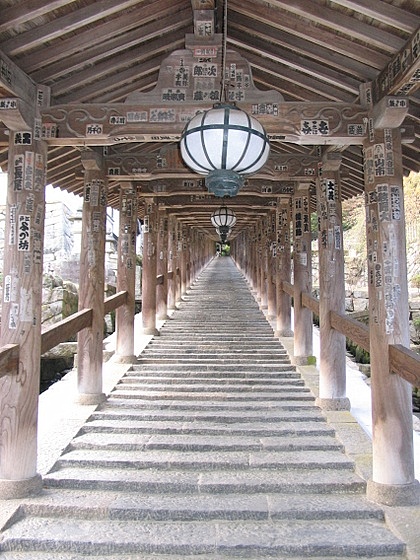 Endless steps lead up to the hondo.