Kiyomizu-dera Temple, Kyoto
In Heian times, Kiyomizu-dera was the closest major pilgrimage site to the capital, Kyoto, and probably the most popular. It was situated in an area then known generally as the Eastern Hills (Higashiyama).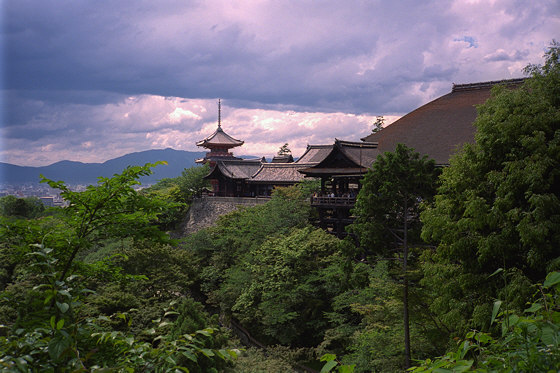 Kiyomizudera Temple with its pagoda on the skyline.
Founded in 798, Kiyomizu-dera ("Pure Water Temple") has one subtemple and many halls spread out over the hillside. It is famous for its pagoda and its veranda, which offers spectacular views of Kyoto. The temple's principal object of devotion is a hidden image of Kannon and the main hall faces south towards Kannon's "Southern Paradise."

Kiyomizu-dera is well-known in ancient Japanese literature. In the Evening Faces chapter of The Tale of Genji, the object of Genji's affections dies in mysterious circumstances and he has a secret funeral for her at a small temple near Kiyomizu. On the way back, the grief-stricken Genji falls from his horse at the Kamo River and Koremitsu has to make a supplication to Kiyomizu before they are able to continue.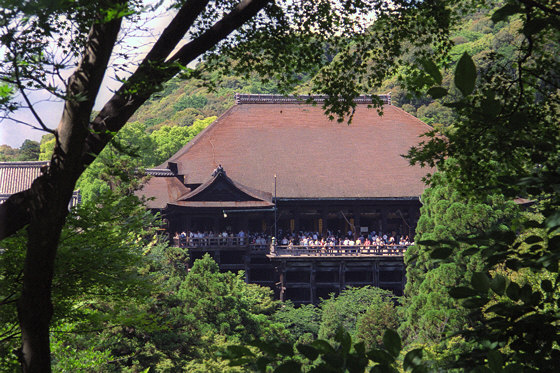 Kiyomizudera Temple has been a popular pilgrimage since Heian times.
Kiyomizu-dera is the 16th temple on the Saigoku Kannon pilgrimage and four of its halls plus one subtemple - Taisanji - form part of the Rakuyo Kannon Pilgrimage.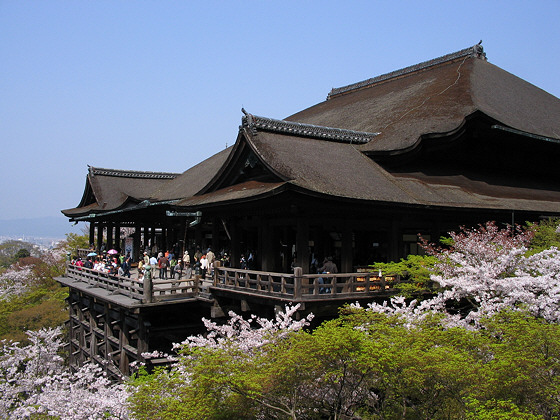 Kiyomizudera Temple has a large veranda looking out over Kyoto and beyond.
The popular Jishu-jinja Shrine is located on the temple grounds, and both shrine and temple are packed with tourists and pilgrims every day of the week.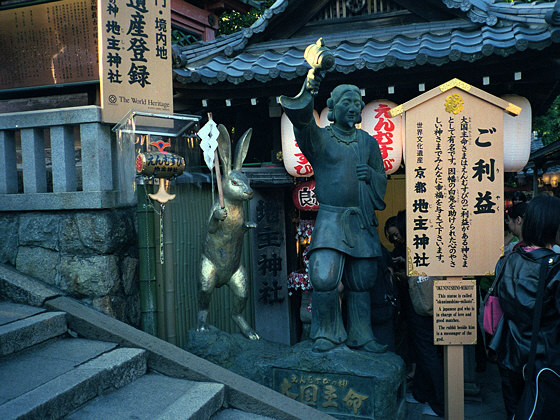 The Shinto deity Okuninushi no Mikoto and his messenger rabbit at the Jishu-jinja shrine beside Kiyomizudera can help in matters of the heart.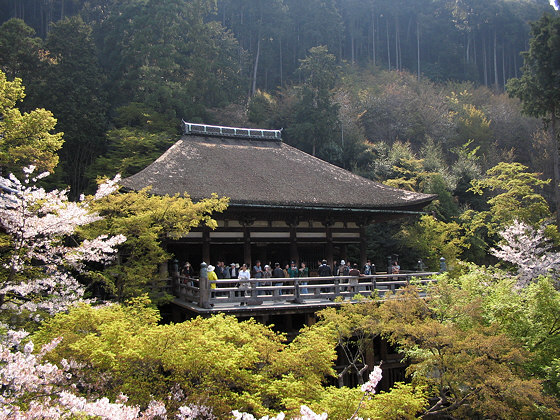 Kiyomizudera Temple Okunoin.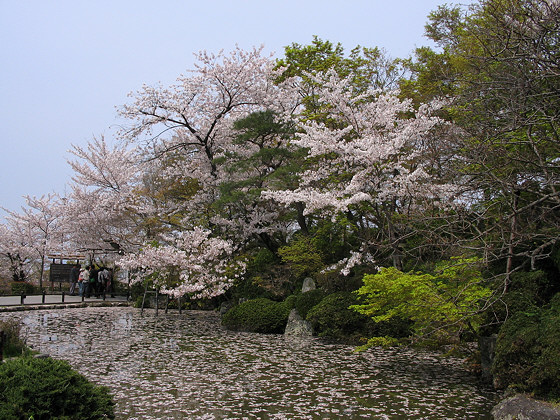 Kiyomizudera Temple pond.
Kiyomizudera Temple Shakado.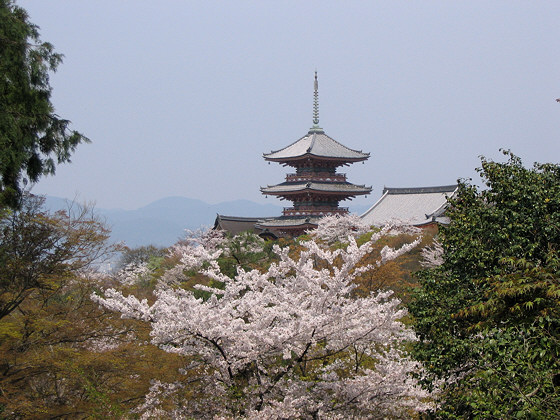 Kiyomizudera Temple pagoda and cherry blossom.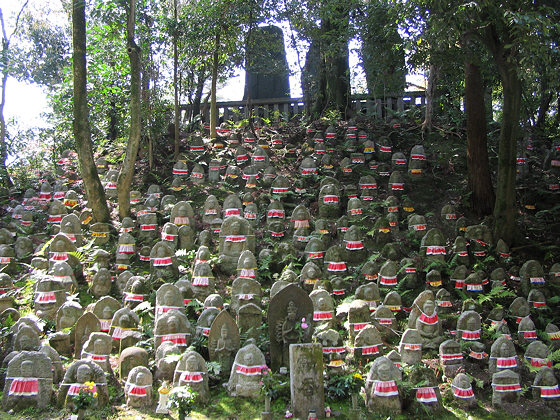 Stone images at Kiyomizudera Temple.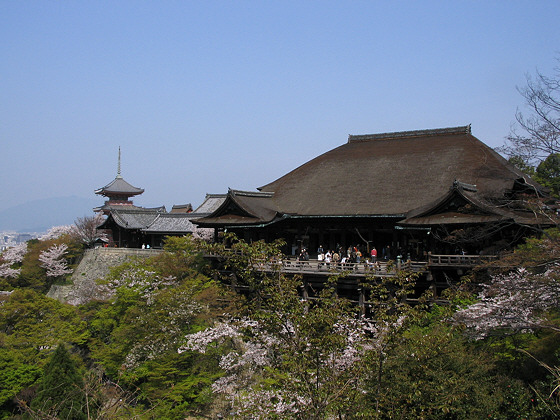 Kiyomizudera Temple hondo and pagoda.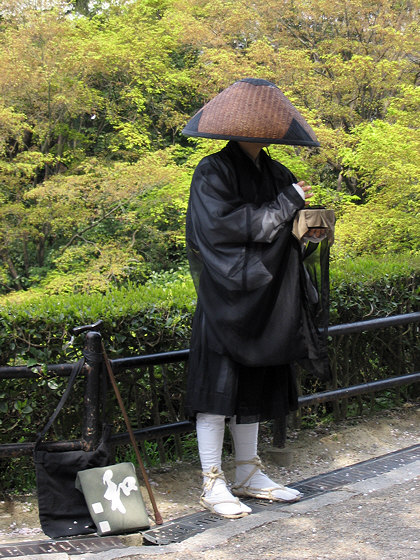 Monk outside Kiyomizudera Temple.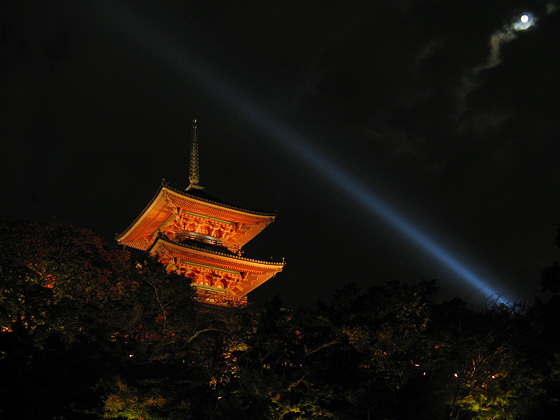 Kiyomizudera Temple pagoda and full moon.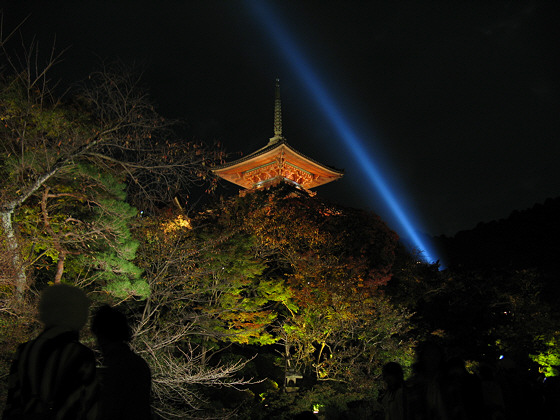 Kiyomizudera Temple pagoda.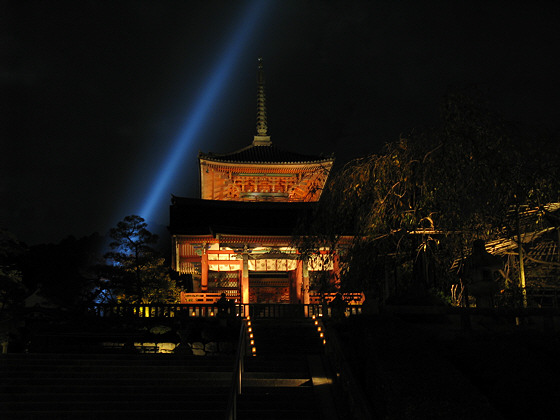 Kiyomizudera Temple pagoda at night.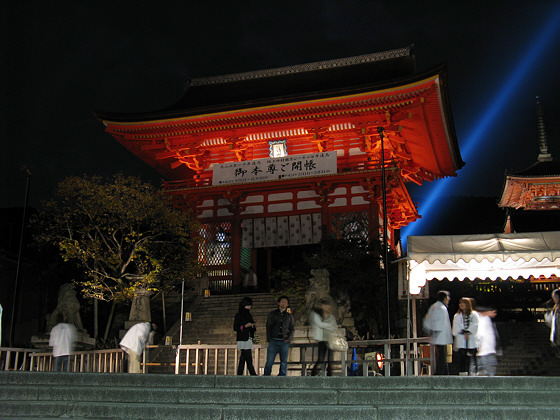 Kiyomizudera Temple Niomon at night.