Kyoto Travel Guide
When to go
The best time to visit Kyoto is during the cherry blossom (sakura) or Autumn leaves (momiji) season because the weather tends to be cool and sunny, the temple treasures are on display and museums have special exhibitions. As a general guide, cherry blossom lasts for about a week and could come any time from the first to the third week of April. Autumn leaves turn red from the second week of November through to the beginning of December. However, hotels and guest houses are usually booked up three months in advance for these periods, especially single rooms in cheaper hotels or guest houses.


Kyoto City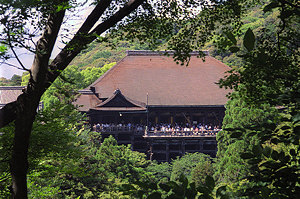 Kiyomizudera Temple is a popular temple in the eastern part of Kyoto known as Higashiyama. Its spectacular view attracts many overseas and Japanese tourists.
Main attractions: Large open veranda with a magnificent view of Kyoto. Cherry blossom in April and red maple leaves in November, with the hillside lit up in the evening at both times. One of the Saigoku Kannon pilgrimage temples. Mentioned in The Tale of Genji and other ancient literature.
Founded: 780.
Principal image: Kannon. Not on display.
Getting there: 25 minute walk from Keihan-Gojo Station.

Sanjusangendo Temple is a popular temple in the eastern part of Kyoto known as Higashiyama.
Main attractions: 1,001 figures of Kannon carved in the 12th and 13th centuries.
Founded: 1164.
Principal image: Kannon.
Getting there: 10 minute walk from Keihan-Shichijo Station. Opposite Kyoto National Museum.

Toji Temple was founded to protect Kyoto in 794.
Main attractions: Tallest pagoda in Japan (1643).
Founded: 794.
Principal image: Momoyama period Yakushi trinity.
Getting there: 5 minute walk west from Kintetsu Toji Station.

Heian Jingu Shrine is a 19th century replica of the Heian-era Imperial Palace.
Main attractions: Extensive Heian-style gardens with cherry blossom, irises and water lilies. Evening concerts beside the lake during cherry-blossom week in April.
Founded: 1895.
Deities: Emperor Kammu and Emperor Komei are enshrined here.
Getting there: 10 minute walk north from Higashiyama Sanjo subway station on the Tozai Line .

Kinkakuji Temple. Built in 1397 a retirement villa for Shogun Ashikaga Yoshimitsu, Kinkaku-ji was converted into a Rinzai Zen temple after Yoshimitsu's death. The main hall was burnt to the ground by a deranged monk in 1950 and rebuilt five years later, an incident that provided inspiration for Yukio Mishima's novel, The Temple of the Golden Pavilion.
Main attractions: The upper floors of the pavilion are covered with gold leaf.
Founded: 1397.
Getting there: From Kyoto Station take bus 12, 59, 204, or 205 and get off at the Kinkakuji-machi stop.

Daikaku-ji Temple is a very picturesque temple beside a large pond in western Kyoto.
Main attractions: Cherry blossom and three-day Harvest Moon Festival.
Founded: 9th century.
Principal image: N/A.
Getting there: About 50 minutes by Kyoto City Bus 28 from Kyoto station.

Kyoto National Museum is the most impressive museum in Kyoto.
Main attractions: A good permanent collection of Buddhist art and interesting special exhibitions. April 24 - May 27, 2007 Fujiwara no Michinaga: Courtly Splendor and Pure Land Faith.
Admission: 500 yen.
Hours: 9.30-5.00. Closed Mondays.
Getting there: 10 minute walk from Keihan-Shichijo Station.


Kyoto Prefecture
Ishiyama-dera Temple is a beautiful mountain temple beside Lake Biwa.
It the 13th stop on the Saigoku Kannon Pilgrimage and is well known for its association with Tale of Genji and its author Murasaki Shikibu. Main attractions: Cherry blossom in Spring, irises and wisteria in May, extensive grounds and garden, hondo with veranda and seats inside.
Founded: 749.
Principal image: Nyorin Kannon.
Getting there: Train from Keihan-Sanjo station, changing at Hama-Otsu for Ishiyamadera at the end of the Sakamoto local line. Walk 10 minutes beside the river.

Jingo-ji Temple is a very picturesque temple overlooking a river valley west of Kyoto. It was originally an important centre of esoteric Buddhism and one of the three most important temples in the Shingon sect. It is only 10 minutes' walk from Saimyo-ji and Kozan-ji temples and lies at one end of the Kiyotaki-no-Michi path.
Main attractions: Autumn foliage in November, carving of Yakushi Nyorai, temple treasures of esoteric Buddhism on display May 1-5, throwing clay disks off the cliff for luck.
Founded: 781.
Principal image: Yakushi Nyorai.
Getting there: About an hour by City Bus from Kyoto station to Takeo, and a 15-minute climb to the temple.

Kurama is the site of an annual fire festival north of Kyoto.
Main attractions: Kurama-no-Hi Matsuri Fire Festival on October 22 beneath Yuki-jinja shrine. Pilgrimage path from Kibune to Kurama-dera Temple.
Getting there: 30 minutes by train from Demachi-Yanagi Station to Kurama Station. Or get off at Kibune station and walk over the old pilgrim's path.