The Seven Great Temples of Nara
The "Seven Great Temples of Nara" (Nanto Shichi Daiji), which flourished before Japan's capital moved from Nara to Kyoto in 795, were Todaiji (Great Eastern Temple), Saidaiji (Great Western Temple), Yakushiji, Horyuji, Kofukuji, Gangoji and Daianji (Great Peace Temple). All except the latter two retain some of their original magnificence. The temples are mentioned in the New Herbs chapter of classic Japanese novel The Tale of Genji when Akikonomu commissions sutra readings at the Seven Great Temples of Nara.
Yakushi-ji
Built in the 7th century, Yakushiji is head temple of the Hosso sect of Buddhism. The temple houses a fine collection of Buddhist art objects, including a Yakushi Triad, a Sho Kannon and an exquisite 8th century painting of Kichijoten on hemp cloth. It also features completely restored main buildings and two pagodas.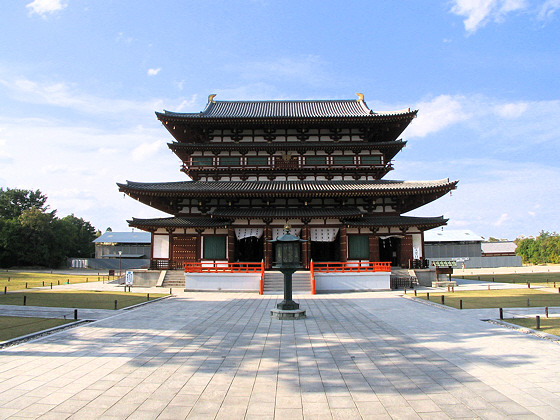 Main hall of Yakushiji Temple.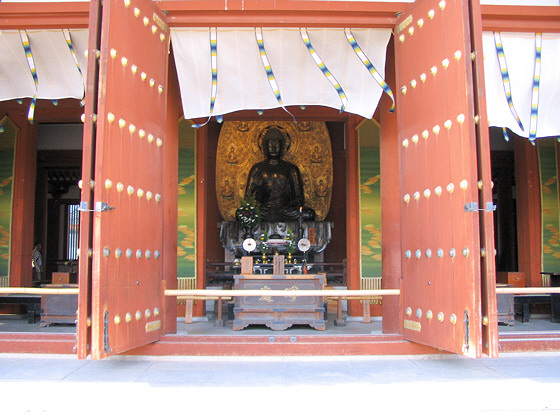 Yakushi triad at Yakushiji Temple.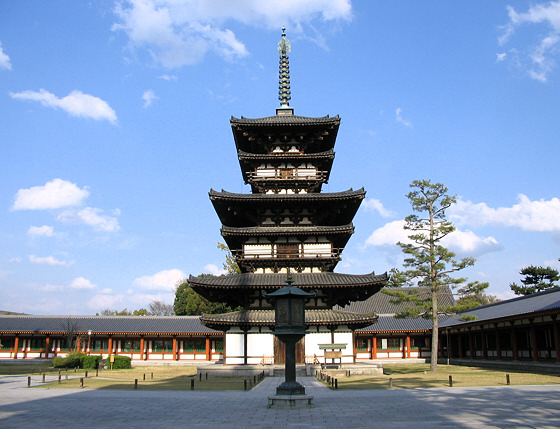 East pagoda of Yakushiji Temple.
Todai-ji
Constructed in 752 on the order of Emperor Shomu, Todaiji Temple's Great Buddha Hall (Daibutsu-den) in Nara is the largest wooden structure in the world and houses an immense statue of Rushana Butsu, the "Cosmic Buddha."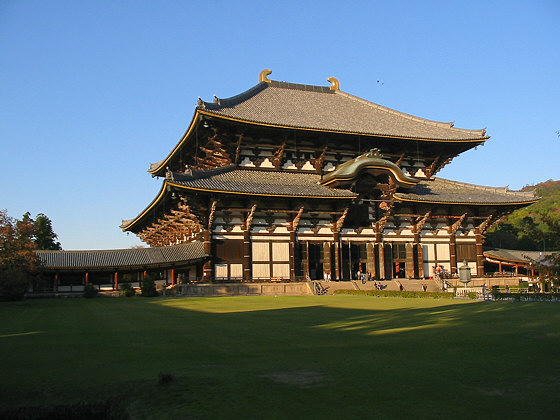 Todaiji Temple's Daibutsu Hall at sunset.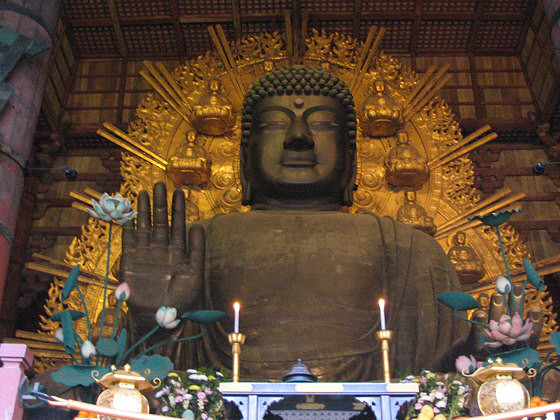 Great Buddha (Daibutsu) at Todaiji Temple.

Saidai-ji
Saidaiji Temple houses an important Seiryoji-style Shaka Nyorai (dating from 1249) in a beautiful lamplit hall, and an immense Hasedera-style Kannon Bosatsu carving.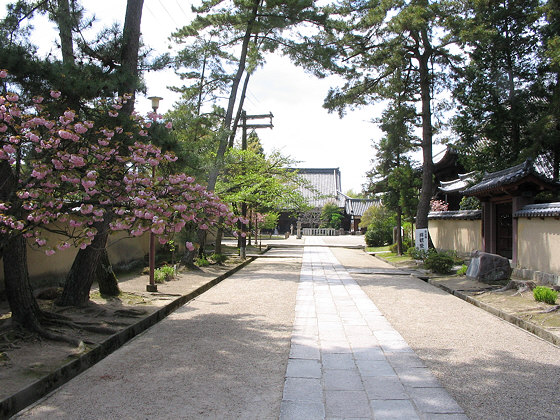 Approach to Saidaiji Temple.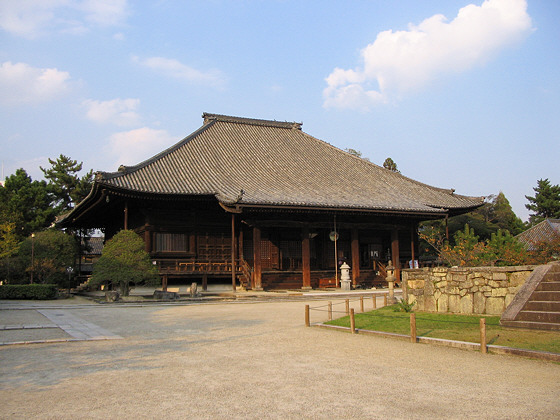 Main Hall of Saidaiji Temple.

Kofuku-ji
Kofukuji was originally the clan temple of the powerful Fujiwara clan and one of the head temples of the Hosso sect.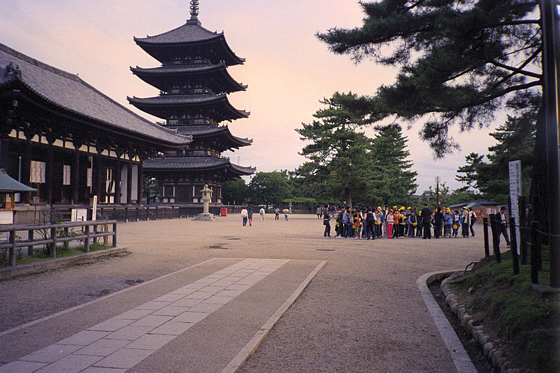 Kofukuji Temple pagoda and Tokondo (East Golden Hall).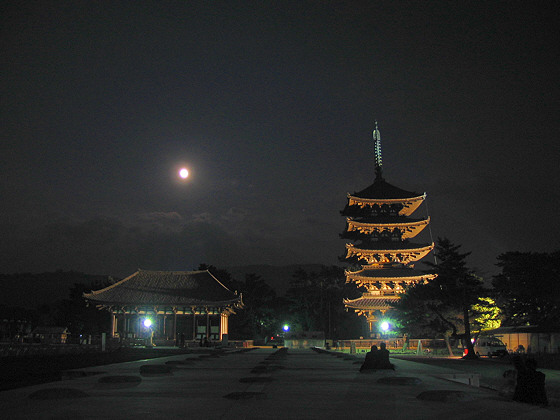 Full moon at Kofukuji Temple.

Horyu-ji
Founded by Prince Shotoku in 607 long before Kyoto was capital of Japan, Horyuji is a large temple south of Nara which houses the oldest wooden buildings in the world.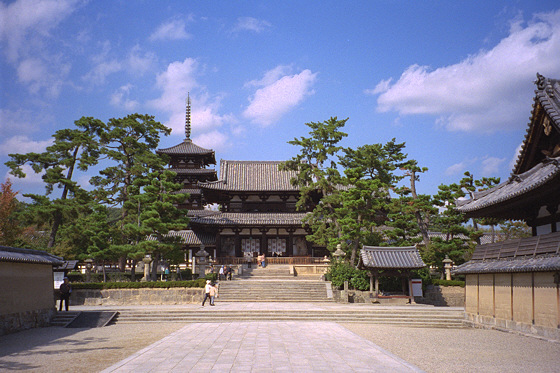 Horyuji Temple's pagoda and main entrance.

Gango-ji
Founded by Soga no Umako, Gangoji is among the oldest temples in Japan, having been moved from Asuka to Nara in 718. All that remains of the original building is the Zenshitsu hall at the rear.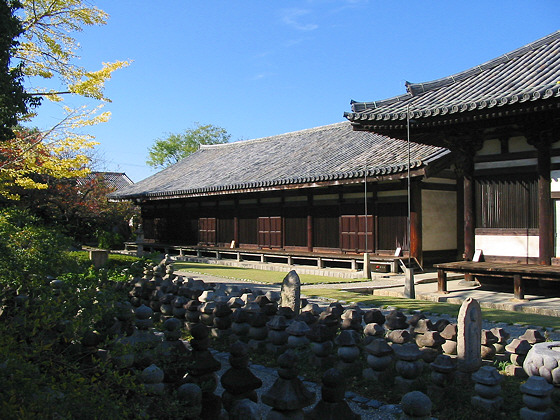 Zenshitsu Hall of Gangoji Temple.

Daian-ji
Situated in the south of Nara City, Daianji Temple is the last stop on the Yamato Jusan Butsu pilgrimage. Little is left of its original splendour.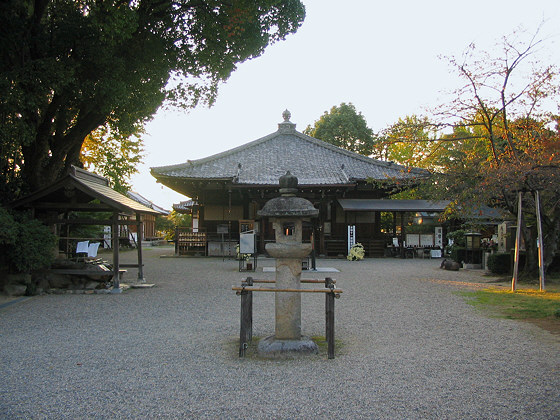 Daianji Temple's hondo.