The affair of the last Tang emperor in China and his beautiful concubine, Yang Guifei (Yang Kwei-fei) was the great love story of the age and often mentioned in ancient Chinese and Japanese literature.
"The Song of Unending Sorrow," by Po Chu-i (772-846), was the most popular Chinese poem in Heian Japan. With some embellishment, it recounted the true story of how Yang Guifei (Yokihi in Japanese) rose from obscurity to win the heart of an emperor, before causing his downfall and that of the entire Tang Dynasty.
Emperor Xuanzong (Hsuan Tsung), a grandson of Empress Wu Zetian (Wu-chao, Wu-hou) who ruled from 713-756, was a wise and forward-looking ruler during the early years of his reign. Yang Guifei was originally married to one of his sons in 736, at the age of 18. The emperor, already in his 50s, quickly became infatuated with her and, in 741, she abandoned her husband and entered a Taoist nunnery. By 745, the emperor had arranged for his son to marry another woman and made Yang Guifei (Yang Kwei-fei, Yang Kuei-fei, Yang Gueifei) his "Precious Consort."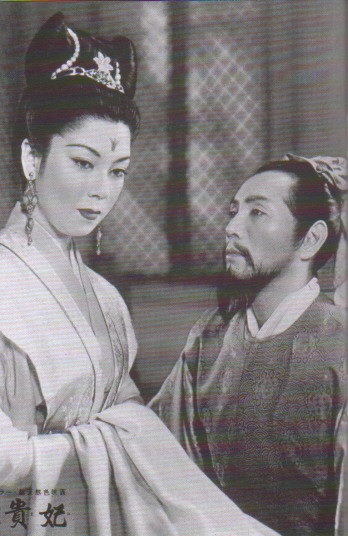 From this time on, Xuanzong neglected affairs of state and allowed his court to lapse into decadence. Meanwhile, Yang Guifei caused something of a scandal with her close relationship with An Lu-Shan, a powerful general of Turkic origin. Eventually she adopted the corpulent, 48-year-old general.
A variety of natural disasters and two military defeats caused unrest in the empire, culminating in a rebellion led by An Lushan in 755. As the victorious rebel forces advanced on the capital, Xuanzong and his court fled towards Chengdu in Sichuan (Szechwan). On the way, the imperial guard mutinied and killed Yang Guifei's brother, the prime minister. Blaming the Yang family for the empire's troubles, the troops forced the emperor to have his beloved concubine strangled.
An Lushan's power didn't last long, however. He was assassinated by his son and eventually the Tang dynasty regained control. When Xuanzong finally returned to the capital, Chang'an (Xian), he was seized by remorse and tried using a Taoist priest to contact Yang Guifei in the netherworld.
According to the poem, the priest manages to contact her, bringing back half a gold hair comb, which the emperor knew belonged to her, and a message: