Sanzen-in Temple, Kyoto
Sanzen-in's Ojo-Gokuraku-in (Amida Hall), which means Temple of Rebirth in Paradise, was first built in 985 by the Tendai priest Genshin.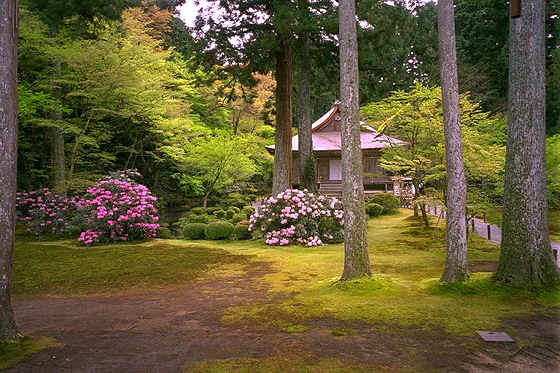 Cryptomeria and moss behind the Amida Hall of Sanzenin Temple.
It was rebuilt in 1148 and joined with the imperial temple (monzeki) Sanzen-in in the late 15th century. Ojo-Gokuraku-in enshrines a statue of Amida with two kneeling attendants, Kannon and Seishi.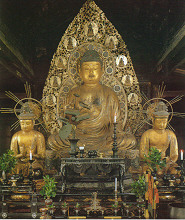 Amida with Kannon and Seishi kneeling at either side.
Sanzen-in is famous for its beautiful garden and Autumn foliage.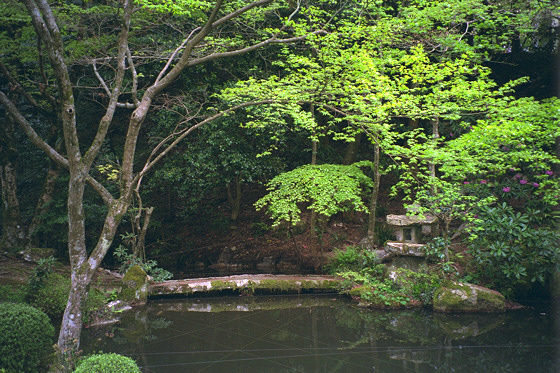 A shady carp pond at Sanzenin Temple.
Detailed information: The Ohara area has been known as Gyozan for more than a thousand years. It has been revered as the home of Tendai Shomyo (the way of Buddhist hymnal chanting) and a mecca for its followers who flock there. Sanzen-in Temple, also called Kajii Monzeki, Nashimoto Monzeki or Enyu-in Monzeki, is one of the five Tendai Monzeki temples. Monzeki temples are a special kind of temple, where in days gone by, the chief priest was a member of the imperial family. One of the prime examples is Sanzen-in, as this temple had 32 chief priests from the imperial family in its past history. The temple was established by Saicho (767-822), or Dengyo Daishi, and its principal figure is that of Yakushi Ruriko Nyorai, or the Buddha of Healing, which is not regularly available for viewing.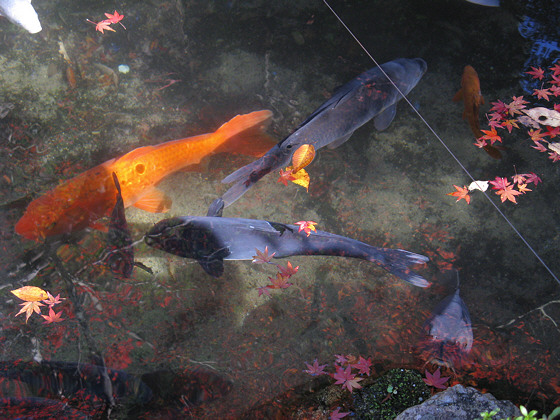 Sanzen-in Temple carp.
Established in 986 during the Heian period, the Ojo-Gokuraku-in Hall, a fine example of austere architecture was the original structure in the Sanzen-in Temple complex. It is known that the priest Eshin, along with his sister Anyoni, built it as memorial to the souls of their dead parents. Inside the hall are hollowed ceiling and walls, decorated with a depiction of a heavenly garden, in full colour. This one-story building with half-hipped shingle roof accommodates the image of a sitting Amitabha in the center, with kneeling images of Kanzeon Bosatsu (right) and Seishi Bosatsu (left). The figure's pose, hands clasped together, signifies a warm welcome, implying: "Please come to me, I'll remove you from the suffering of this world and take you to a world of pleasure."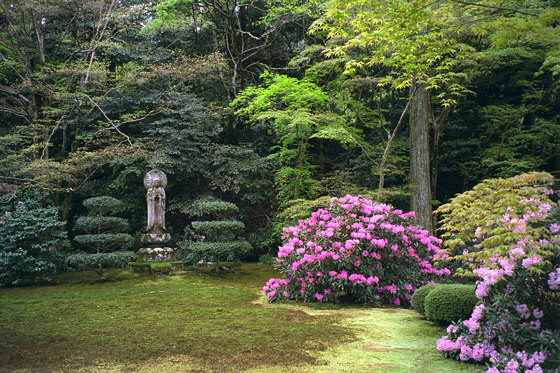 Stone statue of Jizo in the garden of Sanzenin Temple.
There is the Shuheki-en garden, which can be viewed from Kyakuden or Kenshodai, and also the Yusei-en garden, leading to the Ojo-Gokuraku-in Hall, which can be viewed from the Shinden. These gardens have magnificent settings with moss and Japanese cedar and maple trees.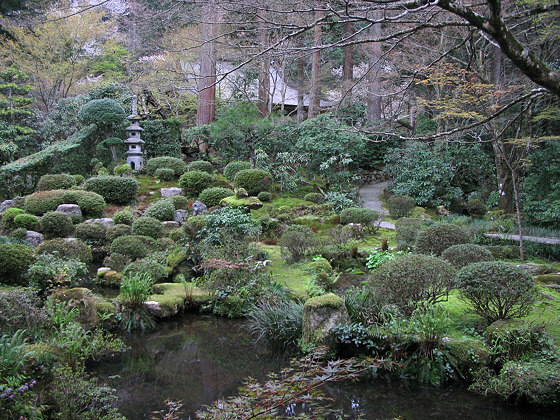 View from the veranda at Sanzenin Temple.
In the Kyakuden, ancient texts and paintings on sliding door panels are displayed. These works of art were painted by the great artists of Japan, including Suzuki Shonen and Takeuchi Seiho, who are representative of Kyoto's art world in the Meiji era. From the Kyakuden through the Kenshodai, it is possible to eavesdrop on the priest's sermon, and if interested, you can experience sutra-copying in the Enyubo.

Inside the Shinden are images of the Amitabha Buddha made by Eshin, a Guze Kannon, and Fudo Myoo. (All are Important National Treasures.) The Gyokuza Room, also called the Rainbow Room, was painted by Shimomura Kanzan. In the Shinden, memorial services have long been held by the chief priest. On May 30th every year, this hall serves as a centre for Osenboko (a service with Shomyo), which has been a tradition since the time of the Emperor Goshirakawa.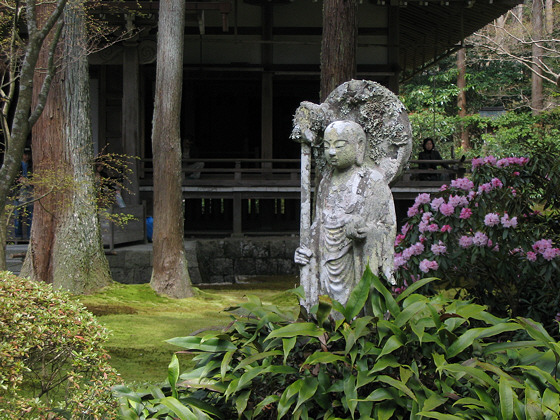 Statue of Jizo among the bushes.
The Konjiki Fudo-do hall was established in 1989 as a place for prayer. Inside the hall, there is the principal figure of Konjiki Fudo Myoo (made by Chisho Daishi), which has not long been open to public viewing.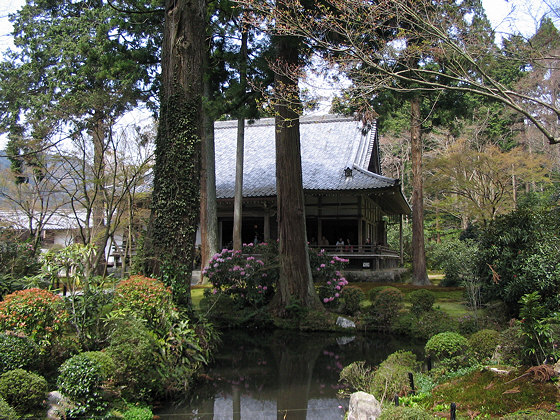 Pond and hondo of Sanzenin temple.
Next to Kannon-do hall is a stone garden, designed to replicate sacred ground, with 25 bodhisattva images of mercy. This hall houses a 3-metre-tall golden figure of Kannon, which is thought to be a bodhisattva with the spiritual power to respond to visitors' wishes. On either side of the Kannon, there are smaller images of Kannon, which were dedications from people whose wishes were fulfilled. You may ask the temple staff if you wish to contribute a dedication of a Kannon image here.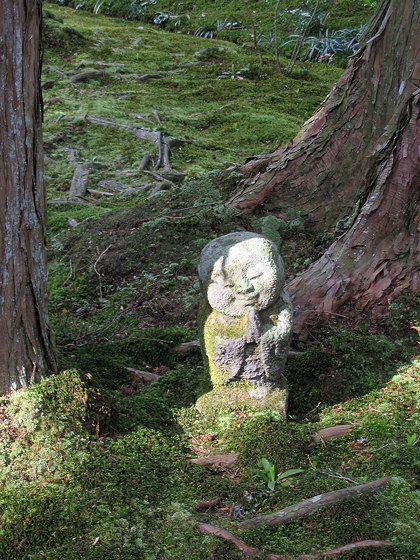 A stone statue among the trees at Sanzenin Temple.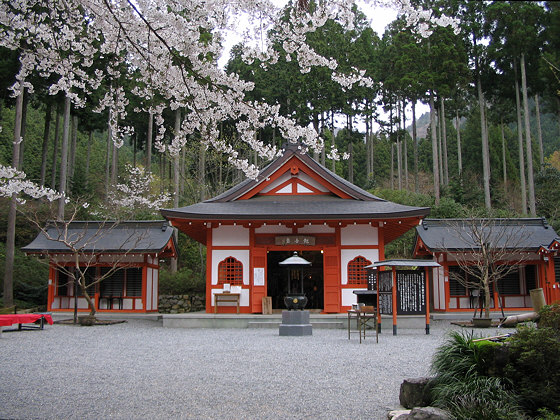 Sanzenin Temple's Kannon Hall.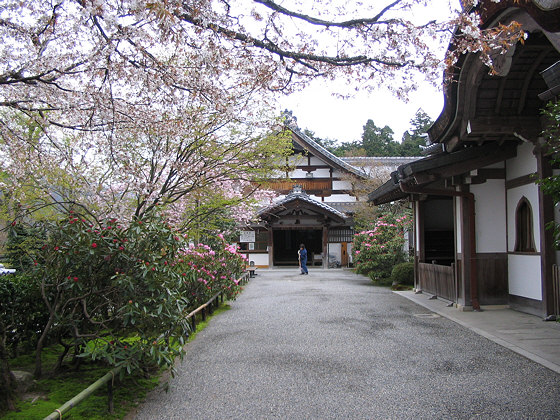 Entrance to Sanzenin Temple.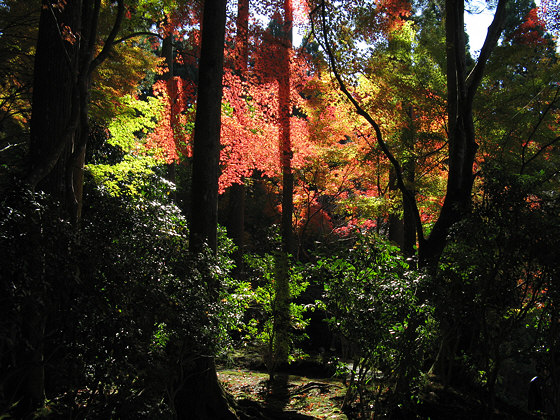 Sanzen-in Temple Autumn foliage.
Sanzen-in Temple Jizo statue.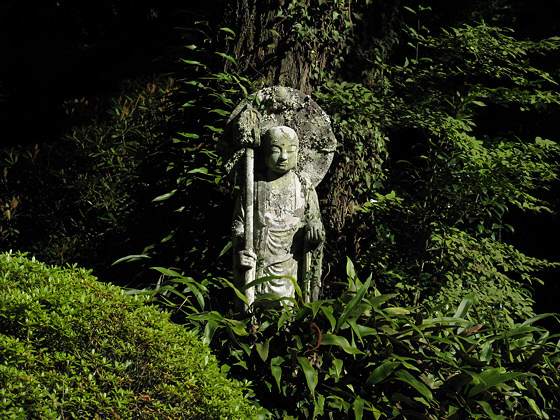 Sanzen-in Temple Jizo statue.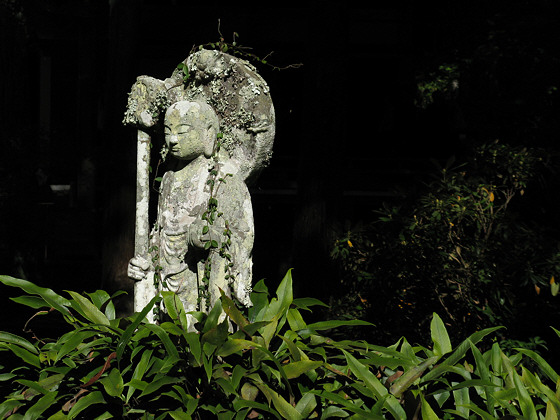 Sanzen-in Temple Jizo statue.