Ryozen Kannon, Kyoto
Located in Kyoto's Higashiyama district, the Ryozen Kannon is a memorial to soldiers who died in World War 2. The white concrete statue of Kannon is 80 feet high and is clearly visible from the top of Kyoto Station.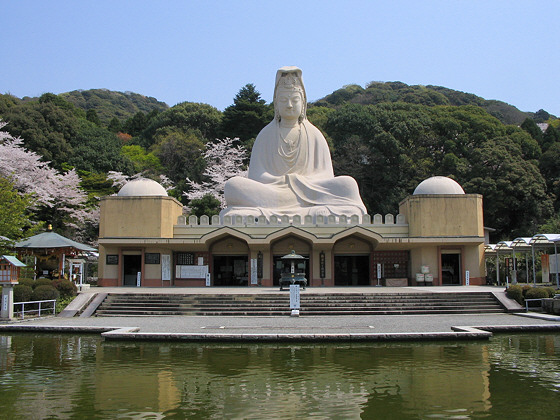 Ryozen Kannon and cherry blossom seen from the main gate.
This concrete statue of the compassionate Bodhisattva Avalokitesvara (Kannon) was built by Hirosuke Ishikawa and unveiled on June 8, 1955. Lying at the foot of the placid, evergreen-covered eastern mountain range of Kyoto, the impressive statue was designed by the famous sculptor Choun Yamazaki.
SHRINE
The image of Bodhisattva Ekadasamukha (Juichimen Senju Kannon) on the platform is enshrined by huge golden pillars and ornate beams. Beside the Bodhisattva are twenty-eight disciples. The god of wind and the god of thunder are also enshrined here. Memorial tablets of the Japanese who died in the last war are also here, for whom memorial services are conducted four times each day at this shrine.
MAUSOLEUM
Surrounding the Bodhisattva Avalokitesvara (Kannon), memorial tablets from throughout Japan are in gold cases and are filed according to city, town, and village, so that visiting relatives may be able to pay their respects.
THE GOMA HALL
This hall enshrines the Bodhisattva Aksobhya (Fudoson). On the eighth, eighteenth, and twenty-eighth days of each month the mountain priests of this temple conduct services of kindling a sacred fire for the sake of national prosperity, highway traffic safety, and harmony within families.
Monument in the Memorial Hall
A monument to the second world war's unknown soldier was erected to the memory of more than forty-eight thousand foreign soldiers who perished on territory under Japanese control.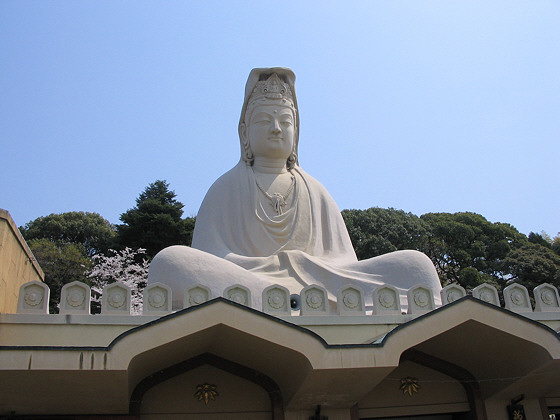 Close-up of the Ryozen Kannon.